PR
Kim Yeon-Koung & Lee Seung-Gun Receive the 2nd Pony Chung Young Leader Award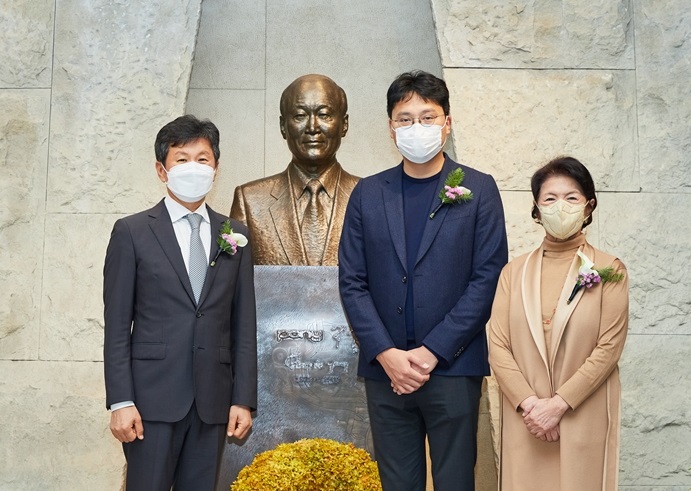 - Volleyball player Kim Yeon-Koung and Viva Republica CEO Lee Seung-Gun received the award in the Pony Chung Hall in Samseong-dong on Nov. 5
- Gives positive message to the younger generation with unprecedented innovation and new style of leadership
- The "2nd Pony Chung Innovation Award" which recognizes and encourages young innovators under the age of 40
The Pony Chung Foundation (Founder Chung Mong-Gyu) selected volleyball player Kim Yeon-Koung and Viva Republica CEO and Toss founder Lee Seung-Gun as the winner of the 2nd Pony Chung Young Leader Award, and held its award ceremony in the Pony Chung Hall at IPARK Tower in Samseong-dong, Seoul, at 5 PM on November 5.
At this ceremony, HDC Group Chairman Chung Mong-Gyu, the Founder of the Pony Chung Foundation, announced the reason behind the selection in his congratulatory remarks as he said, "The Pony Chung Young Leader Award is the second Pony Chung Innovation Award in that it encourages young leaders who will open up a new future for our generation. In welcoming its 2nd year, it's all the more meaningful as we selected the world-renowned volleyball player Kim Yeon-Koung, who showed a new style of leadership, and CEO Lee Seung-Gun, who brought about innovation in the overall financial business by pioneering the FinTech field that never existed before through Toss." The award ceremony was held with attendees including the winner CEO Lee Seung-Gun, HDC Group Chairman Chung Mong-Gyu, and the foundation's board directors. Kim Yeon-Koung was unable to attend as she had left the country to return to the Chinese volleyball league.
After debuting in 2005, Kim Yeon-Koung dominated the Korean league, then became a world-class ace as she led her team to victory in world leagues such as Japan, Turkey and China. She presented a sturdy professional mindset as she maintained her position at the top for 16 years. She was the driving force in leading the Korean women's volleyball team to the semifinals in the 2020 Tokyo Olympics, a legendary feat, and showed outstanding leadership. She played for the national team in the 2016 Rio de Janeiro Olympics, the 2017 FIVB Volleyball World Grand Prix, the 2019 FIVB Volleyball World Cup and the 2020 Tokyo Olympics.
CEO Lee Seung-Gun is at the helm of Viva Republica, which provides Toss, Korea's largest FinTech service. He is considered the leading representative of innovation in Korea's smart tech industry which changed not only FinTech but the financial business in general. Determined to resolve the customers' inconveniences, he diversified his business, creating Toss Bank, Toss Securities and more, leading new innovation in the financial industry. He is also well-known for his young and healthy management philosophy, providing a work environment that gives his employees a great amount of freedom to do what they want. He held various positions such as the first president of Korea Fintech Industry Association in 2016 and the Chairperson of Korea Startup Forum in 2020. He also received many awards including the 2018 Information and Communication Day Presidential Award and being selected in the 2021 class of Young Global Leaders by the World Economic Forum.
As he accepted his award, CEO Lee Seung-Gun stated that he was greatly honored to receive an award that embodied the wishes of the late Honorary Chairman Chung Se-Yung, who opened a new path with his challenging spirit, creativity and entrepreneurship. CEO Lee added that he hopes Korea becomes a paradise for entrepreneurs, and that he will continue to innovate and take on challenges through Toss. Volleyball player Kim Yeon-Koung was unable to attend, but conveyed gratitude by saying that this award was more meaningful because it tied in with the Tokyo Olympics and her retirement from the national team. She added that she will not be complacent and will push herself more to become better.
The Pony Chung Young Leader Award is the 2nd Pony Chung Innovation Award that was newly established last year to encourage young innovators. To continue the innovation and challenging spirit of "Pony Chung," the late Honorary Chairman of Hyundai Development Company Chung Se-Yung, two innovators under 40 who has brought about positive change in our society are chosen and presented with a prize money of KRW 50 million along with a trophy.
LIST